MacArthur Fellows / Meet the Class of 2003
Peter Sís
Illustrator
New York, New York
Age: 54 at time of award
Published October 5, 2003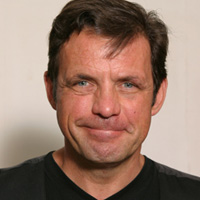 Peter Sís is a master illustrator and author whose work spans children's literature, journalism, graphic art, and book publishing. Using watercolors, pen and ink, and oil pastels, Sis creates illustrations characterized by detailed cross-hatching, muted colors, and graphic borders. His drawings and the texts of his stories comprise works that are visually arresting and thought provoking. His picture books for children are challenging and intricately drawn, and his narratives do not condescend to his audience—often telling tales of individuals from history, such as Galileo in Starry Messenger, who acted according to their principles and at great sacrifice to themselves. His most recent book, The Tree of Life, is about the life of Charles Darwin. While children can appreciate these works, their graphic elegance and complexity make them appealing to adults as well. Providing unique and intriguing dimensions to the texts he illuminates, Sis has contributed over 1,000 drawings to the New York Times Book Review and many illustrations for Time magazine and the Atlantic Monthly.
Peter Sís was born in Brno, Czechoslovakia, and attended the Academy of Applied Arts in Prague (1968–74) and the Royal College of Art in London (1977). He immigrated to the United States in 1982. Sis is the author and illustrator of numerous books, including The Three Golden Keys (1994), Starry Messenger: Galileo Galilei (1996), and Tibet Through the Red Box (1998). He has had solo exhibits at the Art Institute of Chicago, the New York Public Library, and Prague Castle. He has taken part in group shows at the Stedelijk Museum, the Netherlands, the Museum of Communication, Berlin, and the School of Visual Arts Museum, New York.
Photos
High-resolution photos for download. Photos are owned by the MacArthur Foundation and licensed under a Creative Commons license: CC-BY. Credit: John D. & Catherine T. MacArthur Foundation. Right-click on a link below to save the file to your computer.
What's New