MacArthur Fellows / Meet the Class of 2003
Loren H. Rieseberg
Botanist
Director, Plant Sciences Program
Indiana University at Bloomington
Bloomington, Indiana
Age: 42 at time of award
Published October 5, 2003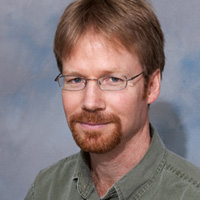 Loren Rieseberg is a botanist who uses research on sunflowers to address the oldest and most vexing problem in evolutionary biology—how species originate. One longstanding debate is whether geographic isolation is required for speciation, and if not, how new species occupying a single territory ("sympatric") can become both viable and reproductively isolated from parent species. Rieseberg was able to show that one sunflower species, Helianthus anomalus, results from an ancient natural hybridization of two other older species. Remarkably, Rieseberg has been able to replicate this hybridization under controlled conditions, in effect, reproducibly reenacting the creation of a new species. These results suggest that some factor intrinsic to the chromosomal structure of the sunflower facilitates a recombination process, leading to viable, reproductively isolated sympatric species. His genetic mapping studies support this hypothesis, and similar reports of others in different species indicate that hybridization-induced chromosomal rearrangement may be a widespread phenomenon. Throughout his work, Rieseberg applies a full range of theoretical and experimental approaches, from classical crossing experiments to contemporary molecular biologic techniques, to answer key questions of evolutionary genetics.
Loren Rieseberg received a B.A. (1981) from Southern College, M.S. (1984) from the University of Tennessee and Ph.D. (1987) from Washington State University. He was an assistant professor at Claremont Graduate School and Research Scientist at the Rancho Santa Ana Botanic Garden in Claremont (1987–1993). Rieseberg was appointed Associate Professor in the Department of Biology at Indiana University, Bloomington (1993). In 1996, Rieseberg was named Director of the Plant Sciences Program, and in 1997, he became the Class of '54 Professor in the Biology Department. He has published more than 150 articles in professional journals.
Photos
High-resolution photos for download. Photos are owned by the MacArthur Foundation and licensed under a Creative Commons license: CC-BY. Credit: John D. & Catherine T. MacArthur Foundation. Right-click on a link below to save the file to your computer.