MacArthur Fellows / Meet the Class of 2003
Tom Joyce
Blacksmith
Santa Fe, New Mexico
Age: 46 at time of award
Published October 5, 2003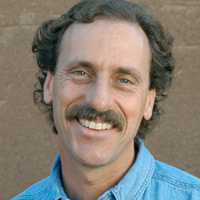 Tom Joyce is a master artist-blacksmith who handles hot metal with lyrical skill. With a thorough, self-taught grasp of the ancient tradition of blacksmithing, Joyce celebrates the history of his craft, but is not bound by it. Ranging in scale from small, geometrically exquisite bowls to sprawling outdoor installations, his broad body of work includes both functional objects—architectural ironwork, vessels, lighting centerpieces—and abstract sculptures. Joyce creates works that touch viewers on multiple levels: their fusion of form and function, their relationship to a community of users, and their materials' history of use. His designs tap the spontaneity of forged metals, elegantly combining aesthetics and utility. His public works, such as a multi-paneled gate forged of scrap metal salvaged from the banks of the Rio Grande by local residents, are suffused with reference to community and environment. While shaping discarded metals into exciting new forms, Joyce preserves indications of their earlier use, highlighting their transformation through time. His recent projects incorporate non-ferrous objects, such as books charred by forging iron around them, exploring notions of the transitory and the permanent. Through such consistently experimental work, Joyce extends a millennia-old craft into an art form for the twenty-first century.
Tom Joyce began his apprenticeship in blacksmithing in his teens under the tutelage of Peter Wells in El Rito, New Mexico. In 1977, he moved to Santa Fe and established his own blacksmith shop. Joyce's works have been featured in dozens of national and international exhibitions and are in public collections throughout the United States and Europe, including the Phoenix Museum of History, the Smithsonian, the Detroit Institute of Arts, and the Santa María de la Paz Catholic Church in Santa Fe. In 1998, he curated an exhibition of African metalwork for the Artist Blacksmith's Association of North America.
Photos
High-resolution photos for download. Photos are owned by the MacArthur Foundation and licensed under a Creative Commons license: CC-BY. Credit: John D. & Catherine T. MacArthur Foundation. Right-click on a link below to save the file to your computer.