MacArthur Fellows / Meet the Class of 2003
Angela Johnson
Writer
Kent, Ohio
Age: 42 at time of award
Published October 5, 2003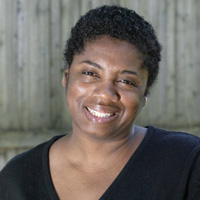 Angela Johnson is an original writer whose award-winning works range from picture books to poetry to novels for children and young adults. Her realistic stories deal with issues faced by children and adults in the context of their families—adoption, care of elderly family members, and death. While these are serious topics, Johnson addresses them thoughtfully and sensitively, in ways that are believable, humorous, and hopeful. She creates characters who are vibrantly alive—from Emily's Grandmama Ola in Toning the Sweep to Marley in Heaven—and who live in one's memory long after their stories have been told. While her narrators are feisty, intelligent, and sensitive African-American girls struggling with their parents, their independence, and the challenges of growing up, Johnson's stories retain a universality that resonates with both young readers and adults.
Angela Johnson attended Kent State University and worked as a child development worker (1981–82) with Volunteers in Service to America. Since 1989, she has been a freelance writer whose works range from board books for infants to picture books and poetry to complex novels for young adults. Her novels Toning the Sweep (1993) and Heaven (1998), a picture book, When I am Old with You (1990) and a book of poetry, The Other Side: Shorter Poems (1998), have each received critical acclaim. Her most recent works include Gone from Home (2000) and Looking for Red (2002).
Photos
High-resolution photos for download. Photos are owned by the MacArthur Foundation and licensed under a Creative Commons license: CC-BY. Credit: John D. & Catherine T. MacArthur Foundation. Right-click on a link below to save the file to your computer.