MacArthur Fellows / Meet the Class of 2002
Erik Mueggler
Anthropologist and Ethnographer
Associate Professor of Anthropology
University of Michigan
An Arbor, Michigan
Age: 40 at time of award
Published September 25, 2002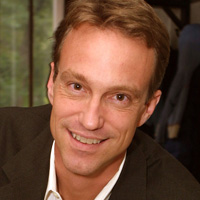 Erik Mueggler is an anthropologist who explores Chinese communities, enriching our understanding of ethnic minorities in China's vast political, social, and cultural landscape. At the simplest level, he examines how repercussions of the Cultural Revolution continue to be seen in the daily lives of ordinary people in the provinces of southwestern China. Mueggler's vivid ethnographies query the effect of state-inflicted abuse and institutional authority on modern ritual, identity, and nationalism. In his book, The Age of Wild Ghosts, Mueggler draws on ritual, folklore, and memory to frame his analyses of community and justice in the township of Zhizuo. This work crosses the methodological boundaries of history and anthropology, bringing together such topics as the history of memory, culture and politics, poetry and material life, and production and reproduction. The effect is to produce new and persuasive conclusions about the distinctive relationship between China's minorities and the State, offering a model for future ethnography in China and elsewhere. Still early in his career, Mueggler has set a benchmark for original and imaginative ethnography in provincial China.
Erik Mueggler received a B.A. (1987) from Cornell University, and an M.A. (1990) and Ph.D. (1996) from Johns Hopkins University. He joined the faculty in the Department of Anthropology at the University of Michigan in 1996, and has been an associate professor since 2001. Mueggler has received numerous grants and fellowships for his research, including a grant for Advanced Study in China (1991) from the National Academy of Sciences and a National Endowment for the Humanities Fellowship (1996). In addition to his book, The Age of Wild Ghosts (2001), articles by Mueggler have appeared in the Journal of Asian Studies, Cultural Anthropology, and Modern China.
Photos
High-resolution photos for download. Photos are owned by the MacArthur Foundation and licensed under a Creative Commons license: CC-BY. Credit: John D. & Catherine T. MacArthur Foundation. Right-click on a link below to save the file to your computer.