MacArthur Fellows / Meet the Class of 2002
Edgar Meyer
Bassist and Composer
Nashville, Tennessee
Age: 41 at time of award
Published September 1, 2002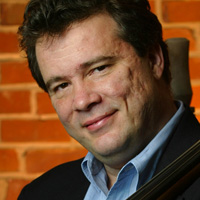 Edgar Meyer, a bassist and composer, is a multifaceted musician whose expansive artistry is altering the way string instruments are played. As a bass virtuoso, he accepts no limits for the instrument and no boundaries for his music. He is equally comfortable in jazz, folk, country, and classical styles. His music is a complex, intricate amalgam, creating a unique musical voice that broadens the technical potential of the bass and stretches the instrument's stylistic possibilities. His recent recording, Bach: Unaccompanied Cello Suites Performed on Double Bass, transforms the bass into a solo classical instrument. His collaborations with established figures in classical music have infused elements of bluegrass into the traditional canon. Blending the lines between musical genres as both a performer and a composer, Meyer is crafting a uniquely American lexicon for symphony orchestras and chamber ensembles. His music communicates an inventiveness and intelligence, yet remains beautiful and infectious, opening the doors to new and changing displays of creative musicianship.
Edgar Meyer received a B.M. (1984) in double bass from Indiana University. From 1986 until 1992, Meyer was a member of the progressive bluegrass band, Strength in Numbers. In 1994, he joined the Chamber Music Society of Lincoln Center. Meyer is currently Visiting Professor of Double Bass at the Royal Academy of Music in London and Adjunct Associate Professor of Double Bass at the Blair School of Music, Vanderbilt University. In 1994, Meyer became the only bassist to win the Avery Fisher Career Grant and, in 2000, the only bassist to receive the Avery Fisher Prize. He is the winner of numerous competitions and honors, including Grammy awards for best classical crossover album in 1999 for Appalachian Journey and in 2002 for Perpetual Motion. Meyer's own compositions have enjoyed premieres by the Emerson String Quartet, the St. Paul Chamber Orchestra, and the Boston Symphony Orchestra.
Photos
High-resolution photos for download. Photos are owned by the MacArthur Foundation and licensed under a Creative Commons license: CC-BY. Credit: John D. & Catherine T. MacArthur Foundation. Right-click on a link below to save the file to your computer.