MacArthur Fellows / Meet the Class of 2002
Liza Lou
Installation Artist
Los Angeles, California
Age: 33 at time of award
Published September 25, 2002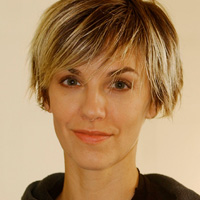 Liza Lou is a young artist who creates luminous, colorful installation works that merge fine art and craft. Through years of long and meticulous labor, using hundreds of thousands of glass beads, Lou creates large-scale environmental works that turn familiar scenes into breathtaking spectacles of color and complexity. In creating her sculpture, she uses papier-mâché, fiberglass resin, wood, found materials, acrylic paint, and glass beads. Inspired by the mosaics in Italy's basilicas, Lou spent five years creating her first major work, "Kitchen" (1995). This installation is a three-dimensional, life-size, 168-square-foot replica of a typical American kitchen of the 1950s. It includes a kitchen sink, a cherry pie cooling on an oven rack, and dust balls under the refrigerator, all entirely covered in brightly colored beads. In 1997, she created a bead-encrusted environment, "Back Yard," covering 528 square feet and containing 250,000 blades of beaded grass in varying shades of green and yellow. Her bead installations are at once stunning works of art and commentary on popular American culture—suburban life and its materialism. With each work, Lou reconfigures elements of day-to-day life, creating easily recognized representations while obliging the viewer to reconsider these items from a fresh perspective.
Liza Lou attended the San Francisco Art Institute. She has had solo exhibits at the Santa Monica Museum of Art, the Bass Museum of Art, Miami, the Kemper Museum of Contemporary Art, Kansas City, and Fundacio Joan Miro, Centre d'Estudis d'Art Contemporani, Barcelona. Lou has participated in group exhibitions at the New Museum, New York City, Heinie Onstad Kunstenter, Norway, the Victoria and Albert Museum, London, and Fondation Cartier, Paris.
Photos
High-resolution photos for download. Photos are owned by the MacArthur Foundation and licensed under a Creative Commons license: CC-BY. Credit: John D. & Catherine T. MacArthur Foundation. Right-click on a link below to save the file to your computer.