MacArthur Fellows / Meet the Class of 2002
George E. Lewis
Composer, Performer, and Music Theorist
Professor of Music
University of California, San Diego
La Jolla, California
Age: 50 at time of award
Published September 25, 2002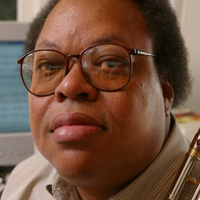 George Lewis is a composer, performer, teacher, theorist, and historian who has opened wide frontiers in experimental music. As a performer, he has mastered the lyrical, tonal, and percussive qualities of the trombone. His compositions bridge traditions of acoustic and electric, American and European, rhythmic and free form. He explores a wide variety of expressive modes, including text-sound collaborations with poets. Lewis has also been a pioneer in the application of computers to algorithmic improvisation. His performances, criticism, and scholarly analyses reveal profound insights into the unique expressive potential of improvisation and its critical role in the history and future of musical expression. In addition to his recent forays into Big Band orchestral performance, he is actively engaged in writing a history of the influential Association for the Advancement of Creative Musicians, of which Lewis himself has been a member since 1971. Through his choice of primary instrumental voice, thematic and tonal motifs, compositional forms, improvisational styles, mathematical analyses, and historical reflections, Lewis sits at the vanguard of contemporary musical expression.
George Lewis studied composition and trombone at the Association for the Advancement of Creative Musicians School of Music. He has taught at Mills College, Simon Fraser University, and the School of the Art Institute of Chicago. Currently at the University of California, San Diego, Lewis is Professor of Music in the critical studies/experimental practices area. More than 90 recordings document his work as a composer, improviser, performer and interpreter. Lewis has received fellowships from the National Endowment for the Arts, and he received the Cal Arts/Alpert Award in the Arts in 1999. He has published articles on music and cultural studies and is the author of the forthcoming Power Stronger than Itself: The Association for the Advancement of Creative Musicians.
Photos
High-resolution photos for download. Photos are owned by the MacArthur Foundation and licensed under a Creative Commons license: CC-BY. Credit: John D. & Catherine T. MacArthur Foundation. Right-click on a link below to save the file to your computer.