MacArthur Fellows / Meet the Class of 2002
Liz Lerman
Choreographer
Founder and Artistic Director
Dance Exchange
Takoma Park, Maryland
Age: 54 at time of award
Published September 25, 2002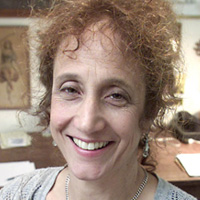 Liz Lerman, a gifted teacher, choreographer, and performer, is redefining where dance takes place and who can dance. Early in her work, she demonstrated the power and role of dance for older people. Her contemporary dance performance company, the Dance Exchange, includes men and women ranging in age from the 20s through the 70s and from all walks of life. Lerman challenges the assumption that only professionals can create dance that is aesthetically pleasing and appreciated by audiences. In towns and cities throughout the country, her workshops have inspired local people—from shipyard workers to clerics—to dance with the troupe. Her most recent project, "Hallelujah," combines dance, music, and stories to reflect the character of each community—from Eastport, Maine, to Los Angeles, California. Lerman builds community, encourages personal insight, and choreographs dances that have been called visionary, profound, and revelatory.
Liz Lerman received a B.A. (1970) from the University of Maryland, College Park, and an M.F.A. (1982) from George Washington University. She founded the Dance Exchange in 1976 and has choreographed works that have been seen throughout the United States and abroad. Lerman's choreographic work has received support from Meet The Composer, the National Endowment for the Arts, AT&T, and the American Festival Project. Her work has been commissioned by the Lincoln Center, the American Dance Festival, the John F. Kennedy Center for the Performing Arts, and the Houston Society of Performing Arts. Lerman is the author of Teaching Dance to Senior Adults (1983) and the recipient of an American Choreography Award.
Photos
High-resolution photos for download. Photos are owned by the MacArthur Foundation and licensed under a Creative Commons license: CC-BY. Credit: John D. & Catherine T. MacArthur Foundation. Right-click on a link below to save the file to your computer.