MacArthur Fellows / Meet the Class of 2002
Toba Khedoori
Painter
Los Angeles, California
Age: 37 at time of award
Published September 25, 2002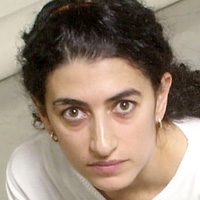 Toba Khedoori is a young artist whose large-scale drawings and paintings on paper appear to float in empty space. Unlike many contemporary artists who employ newer methods such as installations and video projections, Khedoori uses traditional materials—wax, oil paint, and pencil—to create immense but delicate drawings on vast stretches of unframed paper. Her imagery represents urban or architectural elements—such as rows of windows in a façade, a corridor lined with closed doors, or bricks in a dislocated wall—that define our living space. While the work is realistic in its detailed representation of images, it is abstract in the isolation in which the artist places these images. Her quiet, reticent works operate on both a cerebral and an emotional level. They can be likened to visual poems, conveying a sense of mystery and inviting the viewer to speculate on their meaning while appreciating their serene beauty.
Toba Khedoori received a B.F.A. (1988) from the San Francisco Art Institute and an M.F.A. (1994) from the University of California, Los Angeles. She has had solo exhibits at the Hirshhorn Museum, the Museum of Contemporary Art in Los Angeles, the Walker Art Center, the Whitechapel Art Gallery in London, and the Museum fur Gegenawartskunst in Basel. She has taken part in group shows in venues such as the Museum of Modern Art, New York City, the Museum of Contemporary Art, Chicago, and the Museum of Modern Art, Copenhagen. Khedoori was the recipient of a Louis Comfort Tiffany Foundation Award (1995).
Photos
High-resolution photos for download. Photos are owned by the MacArthur Foundation and licensed under a Creative Commons license: CC-BY. Credit: John D. & Catherine T. MacArthur Foundation. Right-click on a link below to save the file to your computer.
What's New