MacArthur Fellows / Meet the Class of 2002
Janine Jagger
Epidemiologist
Founder and Director
International Health Care Worker Safety Center
Charlottesville, Virginia
Age: 52 at time of award
Published September 25, 2002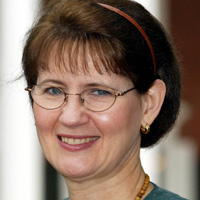 Janine Jagger, an epidemiologist, is a leader in the design and dissemination of means and strategies to protect health care workers from the transmission of blood-borne diseases. Each year in the United States, more than half a million health care workers are stuck by contaminated needles and other sharp medical devices, resulting in major psychological and physical trauma. In landmark research, Jagger proved that injury risk was related to specific device design features, thereby reorienting the debate about protecting health care workers from changing their behavior to improving the design of the devices they use. In 1985, she and her associates designed some of the first needlestick protective devices recorded by the U.S. Patent Office. In the early 1990s, she developed the Exposure Prevention Information Network (EPINet), which is now used in some 1,500 hospitals. Her research and analyses guide design engineers in their efforts to improve the safety of medical devices. Her surveillance system is employed in countries around the world. As director of the International Health Care Worker Safety Center at the University of Virginia School of Medicine, Jagger is now focusing her attention on applying the lessons learned domestically to increase protection for health care workers in developing countries.
Janine Jagger received a B.A. (1972) from Moravian College, an M.P.H. (1974) from the University of Pittsburgh, and a Ph.D. (1987) from the University of Virginia. She has been affiliated with the University of Virginia School of Medicine since 1978 and currently serves as Research Professor of Internal Medicine and directs the International Health Care Worker Safety Center. Her honors include the Distinguished Inventor Award (1988) from Intellectual Property Owners, the President's Award (1989) from the American Academy of Pediatrics, the Henderson Inventor of the Year Award (1996) from the University of Virginia Patent Foundation, and an Excellence in Research Award (1998) from the Association of Operating Room Nurses.
Photos
High-resolution photos for download. Photos are owned by the MacArthur Foundation and licensed under a Creative Commons license: CC-BY. Credit: John D. & Catherine T. MacArthur Foundation. Right-click on a link below to save the file to your computer.
What's New