Past Event
Sneak Preview of "Electoral Dysfunction"
October 29, 2012
5:30 p.m.
Chicago, IL
Spertus Institute
Feinberg Theatre
610 South Michigan Avenue
Map this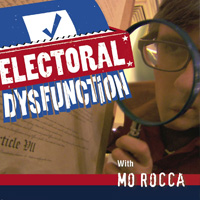 Electoral Dysfunction
A new documentary film that uses humor and wit to take an irreverent–but nonpartisan–look at voting in America.
Screening begins at 5:30 p.m. Reception to follow screening.
About the film
Where is the Electoral College—and does it have a winning football team? Why does the U.S. have 13,000 separate electoral districts? And why is the right to vote missing from the Constitution? Political humorist Mo Rocca sets out to find the answers.

Screened at both the 2012 Republican and Democratic National Conventions and soon to air locally on WTTW, Electoral Dysfunction is for Americans across the political spectrum who want their votes to count.
More information is available on the Electoral Dysfunction website.
Sponsored by Brennan Center for Justice, MacArthur Foundation, The Joyce Foundation, and WTTW.