MacArthur Award for Creative & Effective Institutions / Meet the 2010 Recipients
Action Research & Training for Health
Rajasthan, India
Published January 19, 2010

Improving maternal, neonatal, and child health among India's marginalized
Action Research & Training for Health (ARTH) promotes sexual and reproductive health, neonatal and child health, and health systems and policy in India's predominantly rural Rajasthan state. ARTH demonstrates 24x7 rural delivery and newborn care, trains skilled birth attendants, and operates referral systems for complications, increasing women's access to maternal care.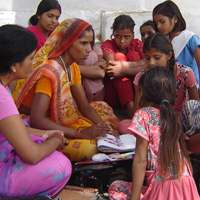 India leads the world in the number of women who die during childbirth – with a fifth of the global total – as women throughout rural, impoverished regions often deliver at home without a trained attendant. In 1997 the husband and wife team of Dr. Sharad D. Iyengar, a public health specialist and pediatrician, and Dr. Kirti Iyengar, a gynecologist, formed ARTH to help address this crisis. ARTH offers field-based health services in two districts with an impoverished rural and tribal population of 58,000, while carrying out research, training, and advocacy work across the state of Rajasthan, with a population of 66 million. ARTH's innovations include the promotion of task-shifting, wherein nurse-midwives are trained in rural areas to free up the limited number of physicians to deal with serious complications, while increasing the total number of women receiving care from a trained provider. ARTH's task-shifting work has been embraced and replicated by the Rajasthan government, which contracted ARTH to train "master trainers" who then train skilled birth attendants statewide. In 2007, ARTH founded a School of Midwifery Practice and Training in Primary Health Care, and it advises the Indian government and the World Health Organization on rural health issues.
Action Research & Training for Health will use its $350,000 award to purchase permanent office space, complete its field campus, and contribute to its endowment.