NJDC is the only national organization in the United States exclusively dedicated to organizing, networking and building the capacity of the juvenile defense bar to protect children's rights. A foundational aspect of NJDC's work is to examine and document the systemic and institutional barriers that can prevent advocates from providing qualified legal defense to children in the juvenile court system. NJDC brings this expertise to local, state and national stakeholders to reform practice and policy. It collaborates with private and public funding partners, including the U.S. Department of Justice, to serve as a national clearinghouse and resource center on juvenile defense issues for professionals, who work with children in the justice system.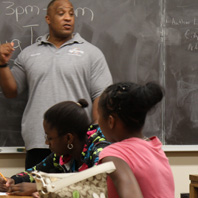 Since 2008, NJDC has coordinated MacArthur's Juvenile Indigent Defense Action Network, an innovative initiative that supports eight states' efforts to strengthen and enhance juvenile defense practice and policy. NJDC also manages the distribution of and provides technical assistance and training on a Juvenile Court Training Curriculum also supported by MacArthur.
NJDC will use the $750,000 MacArthur award to support its network of national advocates by building a new website and integrating innovative digital technologies into its communications and marketing strategies; expanding the availability of important resources and online communications; and strengthening the network of staff, donors and volunteers committed to the fair and rational system of justice for children. The award will also allow NJDC to continue to grow its institutional capacity by establishing an operating reserve fund.
More Information