Our Strategy
Helping to increase social and economic opportunities for low-income Chicagoans, MacArthur supports the New Communities Program, a comprehensive community revitalization effort in 16 Chicago neighborhoods, as well as communication of its lessons learned to other cities and the field.

Rationale
---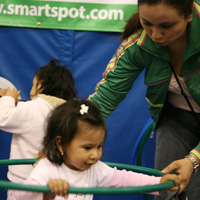 The Community and Economic Development program area seeks to create vibrant, economically-integrated neighborhoods and to increase opportunity for low-income residents by producing measurable improvements in quality of life indicators such as income diversity, employment, property values, crime, and commercial investment. Our approach is guided by the assumption that comprehensive, coordinated neighborhood redevelopment efforts that are supported by strong organizational and institutional relationships will result in better use of resources, more effective programs, and, ultimately, improved quality of life. We are committed to rigorously testing this assumption, to assess whether comprehensive community development approaches are effective ways to achieve measurable improvements for urban neighborhoods and their residents. We also provide support for access to high-quality data and to help organizations and the public to use it to inform planning, organizing, program design and implementation, and policy advocacy.
Background
---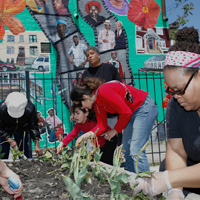 The Community and Economic Development Program works to improve conditions in Chicago neighborhoods, foster greater economic diversity, and increase opportunity for low-income individuals and families. We also aim to develop new knowledge about effective responses to the social and economic challenges that urban areas face. Our central initiative is the New Communities Program, a coordinated effort by LISC/Chicago to mobilize diverse stakeholders and assets in neighborhoods to address a comprehensive range of issues that will improve quality of life—employment, health, housing, violence reduction, and more. A set of complementary investments addresses critical concerns and opportunities in support of our goals: reducing and preventing gun violence; improving access to and use of information technology; catalyzing economic development; and increasing employment to improve neighborhood conditions. The Foundation also supports a small number of national efforts to strengthen the field of community development.
Our Strategic Approach
---

In 2012, we completed the first 10 years of the New Communities Program and moved into a second phase, "Testing the Model." The first decade produced a number of measurable achievements, including large increases in resources and project volume with quality. In addition, an MDRC-led evaluation identified the production of a "platform," a strong network of organizations working together towards shared goals, to be a signature accomplishment. Building on the evaluation findings and an intensive planning process led by LISC, the Foundation is now supporting intensive tests of this approach in seven of the original 16 neighborhoods. Each neighborhood will design and implement an initiative with a particular focus—improving health, public safety, housing, or education—that will leverage the power of the platform to develop solutions at a neighborhood scale.
With our continuing support, LISC, as managing intermediary for the initiative, will provide resources to strengthen the management capacity of lead and partner agencies and seed funding for pilot and program development activities, to ensure that all the neighborhoods have the expert substantive, performance management, and analytical support to conduct intensive work in their chosen focus areas. Grants also will fund ongoing evaluations of the implementation and impact of the initiative.
We also are making complementary investments designed to realize large gains in areas that pose critical threats to neighborhoods—violence, unemployment, and foreclosures—or major opportunities, such as access to and use of information technology and data, and economic development.
We are developing a portfolio of direct action, research, and evaluation in:
Gun Violence.
The goal of our $15 million, five-year investment is to realize immediate reductions in violence today and learn what program elements, delivered at what level of intensity, and in which settings (family, school, and community) are most effective in reducing the number of youths who become shooters and victims. We are pursuing a two-part initiative: continued investment in the suppression of violence, primarily through coordinated law enforcement and criminal justice responses; and a new effort to test the effectiveness of promising strategies to prevent violence among at-risk, middle-grade youths.
Employment.
Recognizing that recent employment losses have fueled a downward spiral of foreclosures, local business closures, and rapidly declining property values, we are exploring also whether targeted efforts to raise local employment to 2006 levels can help to strengthen local housing markets, stem the tide of continued foreclosures, and improve local business district vitality.
Housing Market Stabilization.
While the Foundation has formally ended its special response to the foreclosure crisis, the problem continues. As a result, vacant properties are accumulating and property values continue to decline, which hampers revitalization. In partnership with the Foundation's housing and program-related investment programs, we are pursuing a range of efforts to stregthen local housing markets and to identify new tools to mitigate the crisis.
Economic Development.
We are developing an initiative to revitalize commercial corridors in New Communities Program neighborhoods and to link them with regional business and employment opportunities. Specifically, we are exploring the market and redevelopment potential of existing commercial corridors, and identifying local industry clusters that could contribute to overall regional economic growth and offer opportunities for local businesses and jobs for residents.
Building Capacity for Civic Technology.
Advances in information technology have tremendous potential to increase the impact of every investment we make. The availability of faster and cheaper connectivity and computing power—coupled with the increased availability of public and private data, better tools for analysis and storage, and social media platforms that facilitate networked communication— have potential to increase public and private sector capacity to support neighborhoods. We are developing an initiative to address the institutional and capacity gaps and barriers that prevent public, private, and non-profit entities from taking advantage of the recent wave of innovations in information technology as tools for improving communities.
Finally, we are supporting a small number of national efforts to strengthen the field of community development, to amplify the impact of our work in Chicago by sharing lessons with a broader audience, and to ensure that efforts here are informed by the best research and practice available.
Monitoring and Evaluation
We monitor the expected and proposed outcomes of all our grants through grantee reports and our interactions with grantees.
We also conduct rigorous evaluations of each program component and initiative within the Community and Economic Development portfolio. MDRC, a policy research firm with extensive experience in the community development field, leads the comprehensive documentation and evaluation of the New Communities Program. (The interim report is available.) In addition, evaluations are underway or planned for efforts in violence reduction, employment, economic development, and building civic technology capacities.
Updated December 2012