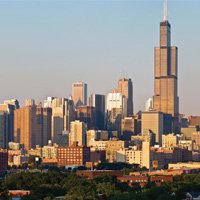 At a Glance
The MacArthur Foundation has deep roots in Chicago, where it is headquartered and where John D. and Catherine T. MacArthur lived. The Foundation seeks and seizes opportunities to work locally as an expression of its civic commitment to its home, and because being rooted in Chicago yields a deeper understanding of issues faced by urban areas and how to address them.
Since 1978, MacArthur has invested nearly $1.1 billion in Chicago. Grants have supported nearly 1,100 organizations and individuals in the region.
Between 2002 and 2012, MacArthur invested more than $200 million to support community and economic development and other activities in Chicago neighborhoods and to increase opportunities for low-income individuals and families.
In collaboration with partners in the region, MacArthur seeks to preserve and expand Chicago's stock of affordable rental housing. The Foundation also has played a major role in helping to ensure that Chicago's historic plan to transform public housing high-rises into mixed-income communities is successful.
MacArthur awards more than $8 million annually to more than 300 arts and culture groups in the Chicago region, including theaters, dance groups, music organizations, visual art programs, film centers, museums, and libraries.
Chicago is home to three innovation sites for MacArthur's digital media and learning work, which aims to support positive change in American education through innovative approaches to learning.
Through its Models for Change initiative, the Foundation has invested more than $140 million in efforts to create models of juvenile justice reform through work in key states, including Illinois.
The Foundation's policy research initiative includes special projects on the nation's fiscal future—with a focus on states and localities, including Illinois—and immigration-related issues in the Chicago area.