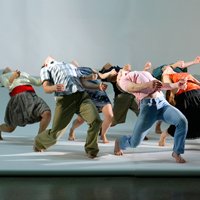 This assessment regards the MacArthur Foundation's general operating support for Arts and Cultural Institutions in Chicago, in partnership with the Prince Charitable Trusts and the Richard H. Driehaus Foundation.
Assessment Overview
The core of the John D. and Catherine T. MacArthur Foundation's arts and culture grantmaking is multi-year, general operating support to over 200 arts and culture organizations in the Chicago region. Of those organizations, Foundation staff make grants directly to the largest 50 organizations. Direct grant sizes range from $52,500 to $100,000 per year (based on annual budget size) over five years. The remaining grants are made by two grantmaking partners, the Richard H. Driehaus Foundation and the Prince Charitable Trusts, which regrant MacArthur funds and provide technical assistance to small and mid-sized institutions.
From July to October 2011, grantees and other experts in the arts and culture sector contributed their views and experiences to an assessment of the general operating support program funded by the MacArthur Foundation. The assessment was undertaken to inform the Foundation's discussions about renewing support for the program after ten years of ongoing investment. While MacArthur Foundation leadership had no particular concerns about the program going into the assessment process, the evaluation provided new data on this funding strategy's importance to grantees and its contributions to the sector. The assessment activities were organized to address the following questions:
How did grantees' use the general support funds and how important were these grants to the organizations?
Would other forms of grant support be more helpful than general operating support?
How effective is the current grantmaking structure and process, including grant applications and reporting requirements, and communication with the funders? Are there ways to improve it?
What is the current state of Chicago's arts and culture sector and how does it impact grantees' ability to operate effectively now and in the future?
What is the context of local, regional or national trends for support of the arts and how should it influence future grantmaking directions?
Findings
Based on data collected during the assessment, the findings are grouped into six categories.
Grant Program Structure and Communication with the Foundations: The survey and interviews showed overwhelming approval of the structure and processes of the grantmaking program regardless of which of the three foundations actually made the grant. In interviews, survey responses and focus groups, common words used to describe the foundations and the staff included: knowledgeable, caring, and straightforward as well as "not overbearing." Grantees, especially those of the MacArthur Funds at Prince and Driehaus, would like to see more MacArthur Foundation staff at their events. They also believe that MacArthur could use its influence to convince other funders to provide general operating support.
Value of General Operating Support: The vast majority of respondents wants to continue getting general operating support and would prefer that type of grant over specific project support. General operating support was characterized as essential but hard to come by with only a few other local foundations providing it. General support is viewed as a sign of trust in the organizations' visions, capacities, and importance to the field. With only one exception, every grantee preferred general operating support over other program or targeted support.
Use of Funding: Participants named a range of costs covered by the general operating support grants --- from facilities rental to staff salaries to purchase or maintenance of technology to fundraising costs. The benefits of this flexible funding fell into three categories: (1) being able to pay for whatever is needed; (2) used as risk capital, for example, to provide stipends to artists to create a new dance or script; and (3) used for routine costs of doing business such as accounting or marketing.
Changes in Funding: Public funding has decreased significantly for all types of organizations, and the economic outlook does not suggest that public dollars will go up in the near future. All groups expressed concerns about local and national foundations turning away from general support to more limited program support.
The Funders' Partnership Model: By working with two foundations that had a history of funding smaller and more diverse organizations, MacArthur was able to extend its influence without adding to its staff. The experts interviewed agreed that the expertise of the staff at Prince and Driehaus was a particular strength of the partnership. Some grantees reported that a downside of the partnership is that they have little to no direct contact with the MacArthur Foundation.
Suggestions for Additional Support: Grantees suggested many ways that additional financial support could be used: marketing, fundraising, board development, and/or trying new or experimental changes to improve their business models. Overall, funding for management staff salaries, facilities, and marketing was most difficult to find.
Summary
Grantees love the foundations that give them money – even when they might also have criticisms about them. The views of grantees towards the program of general operating support for arts and culture at MacArthur and its partners is no exception. The strongest suit of this grantmaking program is the flexibility that general operating support allows. The next most important strength is the power attributed to the MacArthur Foundation name – a name that has the potential to influence the thinking of individual grantees, the Chicago arts and culture sector, and the national field.
Description of Data Collection Strategies
Multiple sources of data were used to develop the recommendations for this report. Between July and October 2011, the following activities were completed:
Focus groups with grant recipients to discuss their impressions of the art and culture sector in Chicago and suggestions about the design of MacArthur's grantmaking program;
Interviews with grantees, organizations that did not receive grants, experts from the arts and culture and arts philanthropy sectors, and Foundation staff; and
Survey of grant recipients to probe the use and benefits of funding, suggestions for additional support, and information about organizational goals. Respondents were fairly evenly distributed across the different funders. Almost a third of the respondents are theater groups with slightly more than 15% each from dance and music organizations.