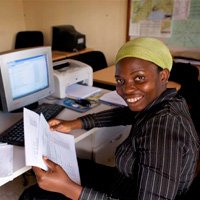 MacArthur operates with the belief that the scale and complexity of challenges to secondary education and the range of involved actors requires a collaborative approach. In 2012, MacArthur and five philanthropic partners formed the Partnership to Strengthen Innovation and Practice in Secondary Education, a collaborative to fund jointly innovative initiatives that provide learning opportunities and life and livelihood skills for children in East Africa, Nigeria, and India.

The partners were brought together as supporters of efforts to bring greater attention and intellectual capital to the challenge of the mass delivery of quality secondary education in developing countries. Partners are individually and jointly engaged in multiple fora, including: A Global Compact on Learning, a policy agenda for access to education and quality learning in the developing world, coordinated by the Brookings Institution's Center for Universal Education; the International Education Funders Group; the Post-Primary Education Initiative of the Abdul Latif Jameel Poverty Action Lab (J-PAL) that promotes policy relevant research on secondary and post-secondary education; and the UN Secretary General's five-year Global Education First Initiative, which seeks to refocus international attention on quality, relevant, and inclusive education for children at all levels. The Partnership was cited among the initial commitments to the Global Education First Initiative at its launch at the 2012 UN General Assembly.

In response to its initial call for proposals in 2012, the Partnership received hundreds of responses from organizations doing this work around the globe and provided nearly $8 million in funding for initiatives to further girls' secondary education in developing countries, exceeding the partnership's original pledge of $5 million. The Partnership issued a second call for proposals in April 2013, pledging an additional $10 million in funding.
For more information:
View the 2012 call for proposals announcement
View the first round of grants from the Partnership
View the 2013 call for proposals announcement