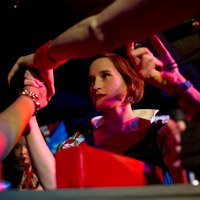 The Arts & Culture Loan Fund provides small and medium sized arts and culture organizations with loans to address cash flow shortages and form long-term banking relationships. The program is open to arts organizations that are grantees of the MacArthur Foundation or the MacArthur funds at the Prince Charitable Trusts and the Richard H. Driehaus Foundation. Eligible organizations will have annual operating budgets between $250,000 and $5 million.
Purpose
The objectives of the Fund are to:
Provide a financing mechanism to address the short-term cash flow needs of small and mid-sized arts and culture organizations
Strengthen financial awareness and management by deepening organizations' understanding of cash management tools and organizational budget cycles
Help organizations build institutional credit history, so that they may develop future, independent relationships with commercial lenders
Eligibility
Applicants to the Fund must:
Be a current general operating support grantee of the Foundation's arts and culture program, either directly or through one of the MacArthur Funds at the Prince Charitable Trusts or the Richard H. Driehaus Foundation, and
Have an annual expense budget in its last fiscal year between $250,000 and $5 million at the time of its loan application
How to apply
To apply for a loan through the Fund, you must first contact Executive Service Corps of Chicago (ESC). A team of consultants is available to help you decide whether you are eligible to apply for a loan and to help your organization start the loan application process. The Executive Service Corps of Chicago has the technical and financial expertise to help you prepare the needed financial documents to apply for the loan through any of the participating financial institutions and to provide financial assistance through the life of the loan (including renewals).
Questions about this fund can be addressed to John Donaker, Executive Service Corps of Chicago Project Manager 312.580.1840 ext. 331. Applicants should NOT contact the participating banks or the MacArthur Foundation directly for loans through this program.
Program Design
The program makes available a standard line of credit with monthly interest payments and one-year terms. Loans range in size from $50,000-$100,000. The interest rate varies.
The MacArthur Foundation has made deposits with local financial institutions to serve two functions: first, to act as cash collateral for these loans, which provides an incentive to make smaller loans that typically would not be attractive to banks; and second, to generate earnings that will help offset the staff time for underwriting and loan monitoring, which cannot be paid through the low interest rates on these loans.
The Fund is available to existing, qualified MacArthur arts grantees through two financial institutions: American Chartered Bank, MB Financial Bank.
The Fund has been established through a partnership among MacArthur and the following organizations:
History
Each year the Foundation makes a few one-time grants for projects of special importance to the arts community. These special grants are designed to meet particular needs in the arts community or address special opportunities that will strengthen the sector as a whole. The MacArthur Arts & Culture Loan Fund was established in 2009 as a joint program between MacArthur's programs on arts and Program Related Investments (PRIs).
Based on a 2007 study of the needs of arts organizations, the Fund is intended to address cyclical cash flow shortages experienced by small and medium sized arts organizations (with budgets between $250,000 and $3 million). The original loan fund was for $1 million over three years. Within six months, the entire amount was subscribed by loans to 16 organizations. The program was expanded in 2010 with another $500,000 to meet continued demand for the loans. In 2013, the eligible budget size for organizations participating in the Loan Fund was increased from $3 million to $5 million.
---
Updated March 2015