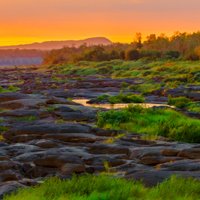 Total Awarded: $6.88 Million
Total Grants: 23
Duration: 2011 - Ongoing
Geographic Focus: Lower Mekong region of Southeast Asia
Background
The Greater Mekong region contains parts of two of the world's biodiversity hotspots, holding remarkable levels of unique biodiversity under severe threat. In 2011, the MacArthur Foundation's Conservation & Sustainable Development (CSD) program launched a grantmaking initiative focusing on the Greater Mekong region that has retained MacArthur's historic focus on biodiversity and ecosystem conservation, but has given greater emphasis to the value that these ecosystems have had for the people and economies that depend on them. Grantmaking in the Lower Mekong has been implemented through a regional collaboration between MacArthur and three other donors – the Critical Ecosystem Partnership Fund (CEPF), the Margaret A. Cargill Foundation, and the McKnight Foundation – that identified 11 thematic grantmaking priorities in the CEPF Ecosystem Profile for the Indo-Burma hotspot. MacArthur chose five thematic priorities to drive its investments: 1) strengthening protected area management effectiveness; 2) empowering communities to conserve priority sites; 3) Mainstream biodiversity in development planning; 4) minimizing the impacts of plantations and dams; and 5) evaluating conservation impacts via systematic monitoring
MacArthur started this grantmaking initiative in 2012 through a three-year investment in the Lower Mekong region, which was intended to complement the Upper Mekong and Mekong region-wide portfolios. The CSD portfolio in the Lower Mekong now consists of 23 grants totaling $6.88 million.
What We Evaluated
The Foundation commissioned an interim evaluation of its Lower Mekong portfolio to inform the next round of grantmaking in 2015. The primary objectives of the evaluation were to understand how conservation prospects have changed since 2011, identify opportunities that may have closed and other new opportunities that may have opened, determine whether the focus on policy, science, and site conservation remained appropriate, and evaluate whether the theory of change and underlying assumptions remained credible and relevant.
What We Learned
Fast-paced economic development has led to some serious conservation challenges in the Lower Mekong since 2011. Despite these threats, MacArthur's conservation investment in the Lower Mekong has been well targeted and shows great promise for achieving long-term conservation outcomes. In particular, investments in advocacy around agriculture, hydropower, and other large-scale developments appear to have greatly raised public awareness of their environmental and social impacts, and also increased government and investor caution about such developments in the future.
MacArthur's flexible, hands-off approach to grant management has given grantees the ability to innovate and adapt to rapidly changing conditions on the ground. The willingness to support experimental and diverse approaches to conservation has been essential, given the region's shifting socio-political context.
Deepening the understanding of benefits provided by ecosystems among key stakeholders is a necessary policy step, but it is not sufficient to lead to effective conservation actions. MacArthur's current focus on long-term capacity, funding, and policy improvement will need to be sufficiently complemented by continued support to directly reduce threats of developments until such enabling conditions are secured. For instance, it remains difficult to influence large-scale infrastructure projects – this will require intensive engagement with Chinese and other international investors and companies.
The focal areas of science, policy, and site-based conservation remain relevant and interdependent to MacArthur's grantmaking initiative. However, greater attention is needed to ensure that science is appropriately designed and targeted to successfully influence decision-makers. To be most effective, future investments in science could begin by building strong understanding and ownership of the process and results among decision-makers or other key stakeholders at the earliest stages.
Coordination with other donors appears to have increased MacArthur's efficiency but could be extended further to areas such as monitoring and to other partners. Alliances with social- and development-focused donors could particularly help leverage success.
Portfolio grants appear to have been well chosen for potential and complementarity. In the future, increased focus on promotion of synergies among grantees and among portfolios and programs would add great value.