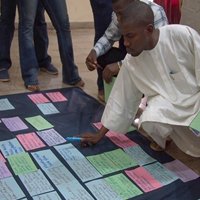 Total Awarded: $2.2 Million
Total Grants: 7
Duration: 2013 - Present
Geographic Focus: Nigeria
Background
Reducing maternal mortality and morbidity is a key aim of the MacArthur Foundation's Population and Reproductive Health grantmaking program. A critical step toward reaching this aim is to increase governmental accountability to maternal health. To further this goal, in 2013 MacArthur awarded a three-year grant to each of seven civil society organizations working in 12 states throughout Nigeria and its Federal Capital Territory. These groups are working to promote transparency in maternal health budgeting, support legal approaches, improve media coverage on the topic, and help establish and support maternal death review committees in order to reinforce their government's responsibility for promoting better maternal health outcomes.
What We Evaluated
In 2014 MacArthur commissioned a baseline evaluation to conduct capacity building activities with each of the grantees in the portfolio, and to examine the maternal health landscape in Nigeria before grantees began implementing activities. Evaluation questions focused on understanding the key actors engaged in maternal health and the prevailing policy and programmatic environments in which they worked.
What We Learned
Dependence on external funding sources largely determines whether civil society organizations actively partner with one another on maternal health issues.
Maternal Death Review committees, which investigate the specific reasons leading to women's deaths, are still in their nascent stages of functioning.
The media reports relatively few stories about maternal death and those that are reported are generally poor in quality. In addition, members of the media sometimes feel constrained by government censorship.
Declining government budget allocations for maternal health programs inhibit accurate, timely, and relevant evidence base on maternal health topics.
Legal cases related to maternal health are not often litigated in Nigeria, further contributing to a general lack of awareness about maternal health rights among the general public.