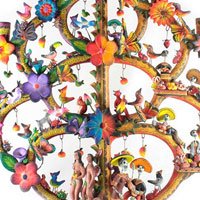 Total Awarded: $13.01 Million, as of February 2017
Duration: 2015 - 2018
Total Grants: 32 grants, as of February 2017
Geographic Focus: Mexico generally, with some work concentrating on Guerrero, Oaxaca, Chiapas, Morelos, Tlaxcala, Hidalgo
Background
The MacArthur Foundation's Population and Reproductive Health Program in Mexico has entered a final phase from 2015 – 2018. Since entering the field, we have aimed to contribute to Mexico's progress in reducing the national maternal mortality ratio. In the 1990s, we helped create and strengthen a national movement that followed up on two of the field's most important international conferences for reproductive health: the International Conference on Population and Development (1994), and the Fourth World Conference on Women (1995).
Our support focused on growth of civil society on women's rights and reproductive health in Mexico and contributing to a paradigm shift from population control to reproductive health and rights. Leadership and our early investments contributed to catalyzing strong and dynamic movement for reproductive health and rights that has since characterized Mexican civil society. Building on this work in the early 2000s, we began to focus grantmaking on maternal mortality prevention and the promotion of young people's reproductive health.
The Foundation's final initiative in reproductive health in Mexico is designed to improve maternal and reproductive health and accelerate the decline of maternal mortality and morbidity in Mexico by strengthening the primary health care system through institutionalizing professional midwifery.
What We Evaluated
This baseline report is a first step in the evaluation of our initiative. Our goal is to improve maternal health outcomes and accelerate the decline of maternal mortality in Mexico by helping to institutionalize professional midwifery. Our strategy concentrates on contributing to lasting, measurable, and targeted changes in the maternal and reproductive health landscape of Mexico by capitalizing on and strengthening momentum around building a new cadre of professional midwives, in order to reach a tipping point that will allow for improved quality of care and, eventually, better maternal health outcomes.
The purpose of the baseline evaluation is to understand the starting points for the initiative with respect to:
Midwifery and maternal health care in Mexico
Training in professional midwifery
Demand for and understanding of professional midwifery
The legal and policy framework
What We Learned
The baseline evaluation, completed in February 2017, outlines what we have learned about the field from the outset. It provides us with a snapshot of professional midwifery in Mexico, and parameters for assessing advances. As we continue to work in the field, we look forward to learning how we have contributed to the recognition of midwifery as a legitimate maternal health option in Mexico. In 2018, we will expect findings related to the achievements and shortcomings of our initiative, and the extent to which midwifery in Mexico is advancing as intended and desired.