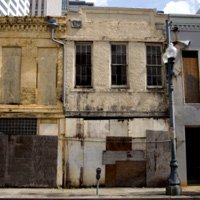 Total Awarded: $6,583,500
Total Grants: 8
Duration: 2005
Geographic Focus: Gulf Coast, US
Background
Per the Foundation's policy, the Foundation does not provide disaster relief. Hurricanes Katrina and Rita created an unprecedented scenario that caused the Foundation to make an exception. Following these natural disasters, the Foundation put aside its usual grantmaking process and provided expedited support to help rebuild affordable housing and assist community development efforts in the affected region. It started this process by first reaching out to organizations with which the Foundation had a pre-existing relationship and approved all of their requested support within months of the hurricanes. Overall, the Foundation supported a total of eight organizations by making one-time grants and Program-Related Investments (PRIs) that totaled $4,875,000 and by providing $1,708,500 in interest and principal forgiveness for existing PRIs.
What We Evaluated
In 2012, the Foundation commissioned an evaluation of this 2005 hurricane-related funding. Our charge to the evaluation team was twofold:
Assess the outcomes and impact of our grants and PRIs.

Identify any important lessons from this one-time response for future occasions when the Foundation might make an exception to its policy and provide disaster-related support.
What We Learned
The Foundation's investments had a meaningful impact through a generally successful mix of activities, especially considering the modest scope of the effort and the limited funding and staff time deployed.

The Foundation helped eight funding recipients leverage more than approximately $201.7 million in the form of additional funds, loans, and commitments for the development and financing of affordable housing and other community development activities in the Gulf Coast region.

With one exception, all of the funding recipients achieved or exceeded the basic goals set forth in 2005, and all are recognized as key players in the overall ongoing recovery efforts that have been underway since that time.