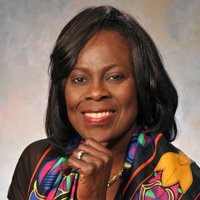 Dr. Olufunmilayo Falusi Olopade, a hematology oncologist and expert on the molecular genetics of breast cancer and tumor suppression, has been elected to serve on MacArthur's Board of Directors, commencing on December 6, 2016.
Dr. Olopade directs the Center for Clinical Cancer Genetics and Global Health and is Dean for Global Health and Walter L. Palmer Distinguished Service Professor of Medicine at the University of Chicago Medicine. She has developed novel strategies for managing cancer based on an understanding of the altered genes in individual patients with a particular focus on African and African-American women. She was named a MacArthur Fellow in 2005.
"We are pleased to have Dr. Olopade join the MacArthur Board," said Board Chairman Marjorie Scardino. "Her innovative research and clinical practice reflect her deep commitment to the human condition. Her scientific expertise and her creative problem solving will help the Board as it continues to guide the Foundation's work on a new course for maximum impact."
Olopade has received numerous honors and awards, including honorary degrees from North Central, Dominican, Bowdoin, and Princeton universities. She is an elected member of the Association of American Physicians, National Academy of Medicine, American Academy of Arts and Sciences, and the American Philosophical Society. She currently serves on the board of directors of Susan G. Komen, Cancer IQ, and the Lyric Opera of Chicago.
"Dr. Olopade brings a wonderful blend of global leadership, active and enthusiastic curiosity, and deep practicality in many areas of expertise and interest," said MacArthur President Julia Stasch.
Olopade joins nine other members of the Foundation's Board of Directors. MacArthur's Board sets policies and strategic direction for the Foundation; approves grantmaking areas, initiatives, and grants; and oversees investments and the audit process through the work of its committees. The Board expects to add additional members over time to fill available vacancies.