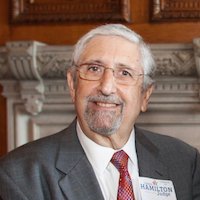 Arthur M. Sussman, former General Counsel at the University of Chicago and former MacArthur Vice President passed away on August 10, 2016 in Chicago, at the age of 73, due to complications associated with non-Hodgkin's lymphoma.
A beloved husband, father, grandfather, and brother, Sussman was also an engaged citizen of Chicago and the world, a leader of the city's cultural, academic, and philanthropic communities, an avid photographer, and a frequent international traveler.
Born to Miriam and Julius Sussman and raised in Brooklyn, New York, Sussman graduated from Cornell University in 1963, where he was an associate editor for the Cornell Sun newspaper and met his wife of 52 years Rita Padnick. He graduated from Harvard Law School in 1966. Sussman served in the Judge Advocate General's Corps in the Fifth Army headquarters in Highland Park, as an Army Captain, and, later, in Washington, DC for the Secretary of the U.S. Army.
He worked for the New York law firm of Cahill-Gordon and was a partner in the Chicago law firm of Jenner & Block, before serving as Legal Counsel for Southern Illinois University (1977-79) and then General Counsel and Vice President for Administration and Argonne National Laboratory at the University of Chicago for 22 years (1979-2001).
Former University of Chicago President Hanna Gray remembered Sussman as "much more than a lawyer; he was a wise counselor with a broad understanding of and deep commitment to the University and its mission."
As Vice President at the John D. and Catherine T. MacArthur Foundation (2001-2011), Sussman helped to shape the Foundation's grantmaking in support of human rights and international justice, biodiversity preservation, and arts and culture in Chicago. His colleagues particularly appreciated his breadth of knowledge, his wisdom, his collegiality, and his sense of humor. Former MacArthur President Jonathan Fanton said of Sussman, "His advice and good instincts about people and programs sharpened MacArthur's work. He was always open to new ideas, new voices, and fresh perspectives."
Sussman cared deeply about Chicago's vibrant arts and culture sector. He attended theater and music performances regularly, visited museums large and small, generously supported numerous arts groups, and served as Chairman of the Illinois Humanities Council, encouraging thought and discussion about the important issues that shape our community and our society. He served as Board Chairman for the Chicago Institute for Psychoanalysis.
The President of the Institute, Erika Schmidt, explained "Art touched all of us as he brought his wisdom and skill to the role of Board chair, supporting our efforts to move forward. I am deeply appreciative of his contributions."
Sussman also served on the Board of Directors for the Albany Park Theatre Project, the Dramatists, and Columbia College.
He traveled extensively and to seven continents, including Antarctica. He was a Fulbright Fellow who studied British higher education while living in London, and he served as a Visiting Professor at the Law School at the University of Ibadan in Nigeria. He loved to experience and learn about different cultures and to share what he learned with others.
One of the ways he shared his global experiences was through his photography. His pictures of West Africa were presented in a 2012 exhibition at Schoenherr Gallery at North Central College in Naperville. His annual calendars, reflecting a part of the world or a visual theme with an image for each month, were popular among his family and friends. For his 70th birthday, he created a photo-based autobiography to share his family story with his grandchildren.
He was a devoted husband, father and grandfather. He is survived by his loving wife Rita, son Eric and daughter-in-law Carrie, daughter Johanna Ilfeld and son-in-law Jeff Ilfeld, brother Edward, and six grandchildren: Adin Ilfeld, Nathaniel Ilfeld, Miriam Ilfeld, Hannah Sussman, Grace Sussman, and Alec Sussman.