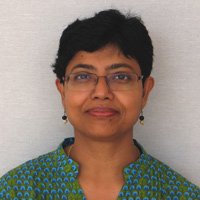 Moutushi Sengupta, former director of Programs and Advocacy for Oxfam India, has been selected to serve as the Director of MacArthur's India Office, which provides grants to civil society organizations that work on population and reproductive health issues, girls' secondary education, and peace and security in the Asia-Pacific region.
Previously, Sengupta worked with Oxfam India, a rights-based organization that fights poverty and injustice, and led a process to develop and make operational the vision and strategy for program management. Prior to Oxfam, Sengupta worked with the Department for International Development in India for more than 15 years on a diverse portfolio of programs and projects across the country, including livelihoods promotion, health, rural development, financial and governance reforms, and enterprise development.
"I am pleased that Moutushi has agreed to lead our India office, which works to meet needs for reproductive health information and services and improve participation by marginalized girls in quality secondary education," said MacArthur President Robert Gallucci. "MacArthur is approaching 25 years of grantmaking in India, and Moutushi's breadth of experience working throughout the country will strengthen our continued efforts there."
Moutushi holds an MBA (University Gold Medallist) degree from the Panjab University and an M.Sc. degree in Applied Environmental Economics from the Imperial College of United Kingdom. She has been visiting faculty with the Symbiosis Institute of International Business, teaching post-graduate course on financial services for the rural poor.
"It is an honor to direct MacArthur's grantmaking in India," Sengupta said. "I am looking forward to working with a diverse set of grantees who are helping to improve the lives of average Indians."
The Foundation's grantmaking in India focuses primarily on population and reproductive health work at the national level, with a special focus on efforts in Rajasthan, Maharashtra, and Gujarat, states that have a significant unmet need for reproductive health information and services. A new initiative seeks to improve participation by marginalized girls in quality secondary education. Additional grantmaking focused on peace and security aims to strengthen stability in the Asia-Pacific region. MacArthur has been active in India since 1990 and opened an office in New Delhi in 1994, led by a staff of Indians who know and love their country. Learn more at http://www.macfound.org/india