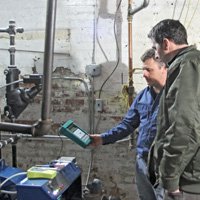 MacArthur today committed $25 million to support and expand innovative energy efficiency financing programs specifically designed to meet the challenges and needs of multifamily housing in the United States. The announcement coincides with today's White House event highlighting a new report on the potential of impact investing, "Private Capital, Public Good: How Smart Federal Policy can Galvanize Impact Investing—and Why It's Urgent."
MacArthur's impact investments will help to reduce significantly carbon footprints for some of the country's least energy efficient buildings and make housing more affordable for low-income families, seniors, and individuals with special needs, such as veterans and the formerly homeless.
According to the American Council for an Energy-Efficient Economy and other experts, a 15-30 percent decrease in energy usage in the U.S. multifamily stock would result in $3.4 billion in annual financial savings for owners and renters across the country and, simultaneously, avert 50 million tons of carbon emissions. Such improvements are urgently needed to combat the rising challenge of climate change and, at the same time, bring relief to the millions of low- and moderate-income households whose unaffordable housing cost burdens lead them to cut back on food, health care, education and other essentials.
"The lack of efficient, workable financing options is a critical hurdle to meaningful energy efficiency gains throughout the U.S. multifamily sector," said Debra Schwartz, MacArthur's Director of Program-related Investments. "Fortunately, there are a growing number of creative models that can help owners upgrade multifamily buildings in ways that significantly reduce energy usage while increasing local economic activity and improving long-term affordability for hard-pressed low-income renters."
Examples of promising financing models the Foundation may help launch or scale up through this new $25 million pool of impact investments include:
MacArthur has a 30-year track record as a leading impact investor, having provided program-related investments (PRIs) totaling $400 million to more than 200 organizations worldwide since 1986.
PRIs, like all impact investments, are made with the intention to generate measurable social and environmental benefits, alongside financial return. This return will vary depending on the investment type. In addition, private foundations that make PRIs must meet specific US Tax Code criteria. These include demonstrating the PRI furthers an IRS-recognized charitable purpose and that an ordinary investor motivated solely by financial gain would not make the investment on the same terms.
"PRIs and other forms of impact investments offer just the right tool to unlock the type and amount of financing needed to meaningfully tackle the challenge of US multifamily energy efficiency," Schwartz said. "By providing capital that is unusually patient, risk-tolerant or low-cost, we can seize a major, two-fold opportunity: mitigating climate change and making housing more affordable for millions of low-income families, disadvantaged seniors and people with special needs."

Over the past two years, MacArthur awarded $5 million in grants to help improve the energy efficiency of U.S. multifamily buildings. These grants included seed funding to develop new financing models, along with research, outreach, and other efforts to foster supportive public policies and market transformation.
Schwartz serves on the National Advisory Board on Impact Investing (NAB) on behalf of MacArthur, a group formed as part of a global effort initiated at the June 2013 G8 Social Impact Investment Forum in London to explore how impact investing can accelerate economic growth and solve social challenges. The NAB issued a report at a White House event today titled, "Private Capital, Public Good: How Smart Federal Policy can Galvanize Impact Investing—and Why It's Urgent" to provide a framework for federal policy action in support of impact investing. The report and its recommendations can be found at www.NABimpactinvesting.org.