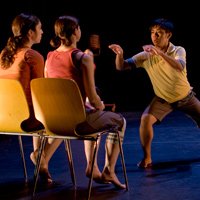 MacArthur awarded $504,000 in new grants to 12 Chicago arts and culture organizations to conduct collaborations with arts groups in nine countries. The grants are the first of two rounds of support from the Foundation's International Connections Fund, which will provide a total of $1 million in grants by the end of 2012.
"Chicago is a global city that benefits from relationships among local residents, the region's vibrant arts and culture groups, and their counterparts outside of the United States," said Robert Gallucci, President of the MacArthur Foundation. "These grants will help Chicago's arts organizations connect our City and its citizens to the world, enhance their creative and artistic work, and bring innovative and high-quality music, dance, art, and theater to Chicago audiences."
The following organizations will receive International Connections Fund grants:
Support from the International Connections Fund is available only to Chicago area nonprofit arts and culture organizations, and nonprofits with well-established arts programs, that have received a grant within the last three years directly from MacArthur or through the MacArthur Funds established at the Driehaus and Prince Foundations or through the New Communities Program directed by LISC/Chicago. Preference is given to proposals that support a new or expanded program, promote reciprocal exchanges to and from Chicago, and execute projects that are ready to implement rather than proposals for planning and exploration. The next round of grants will be awarded in the fall of 2012; proposals for the second round are due between June 1 and July 1, 2012. More information is available at www.macfound.org/icf.
MacArthur Arts and Culture Loan Fund
In addition to these new grants, the MacArthur Arts and Culture Loan Fund will now be available at two financial institutions in addition to Urban Partnership Bank: American Chartered Bank and MB Financial Bank. The $1.5 million Fund provides small and medium sized arts and culture organizations with loans to address cash flow shortages and form long-term banking relationships. Existing MacArthur arts grantees with budgets between $250,000 and $3 million are eligible to apply for a loan through this program, which offers a standard line of credit as well as one-time cash flow "bridge" loans. More information about the program and how to apply is available at www.macfound.org/arts/loanfund.
Each year MacArthur provides $7 million in support to more than 200 arts and cultural organizations in Chicago and the region as an expression of its civic commitment to the place where the Foundation has its headquarters and John D. and Catherine T. MacArthur Foundation made their home. Grants are designed to help sustain the cultural life of the city and region.
Grantee Profile: Aguijon Theater, Chicago Humanities Festival, Chicago Jazz Philharmonic, Chicago Shakespeare Theater, DanceWorks Chicago, Garfield Park Conservatory Alliance, International Contemporary Ensemble Foundation, Links Hall, Lucky Plush Productions, Luna Negra Dance Theater, Museum of Contemporary Art, Seldoms