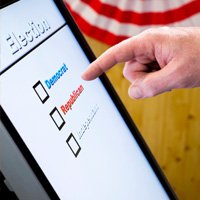 MacArthur today announced 18 grants totaling more than $9 million to support efforts to increase access to voting, secure and modernize voting systems, and reduce the influence of money in politics.
One of the largest of the grants – $1 million to the Georgetown University Law Center – will support the establishment of the Voting Rights Institute, a collaborative effort among Georgetown, the American Constitution Society, and the Campaign Legal Center to help protect the right to vote in the wake of the U.S. Supreme Court's 2013 decision to nullify part of the Voting Rights Act. The Institute will train attorneys in voting rights litigation and empower ordinary citizens to improve voting access in their communities by challenging discriminatory practices.
MacArthur has been supporting efforts to strengthen democracy in the United States, given the widespread view that the political system has failed to adequately address major issues confronting the nation. The focus has been on three primary issues: protecting voting rights, improving voting administration, and reducing the impact of money in politics. MacArthur began this time-limited focus in 2011 with a goal of strengthening democratic institutions and practices, leading to better public policies that address the nation's most critical challenges. The Foundation has since committed more than $17 million to these issues.
"We have been pleased to support some of the leading organizations in this field and to help buttress their critical work on behalf of American democracy," said MacArthur President Julia Stasch. "About half of all eligible voters now live in states with online voter registration; there is heightened vigilance about potentially discriminatory voting laws; and there is more data and reporting on the role of money and politics than ever."
With this final package of grants, MacArthur has supported critical projects, programs and organizations working on voting rights, voting administration, and money in politics through three election cycles. MacArthur's more than 35-year commitment to a stronger democracy will continue through support of journalism, including investigative reporting, nonfiction multimedia, and projects designed to support critical thinking and informed action on contemporary issues and problems.
In addition to the grant for the Voting Rights Institute, the following grants were awarded: