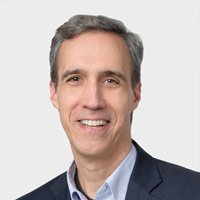 Daniel Huttenlocher, founding Dean and Vice Provost of Cornell Tech, was elected to chair the Board of Directors of the MacArthur Foundation. Huttenlocher has served on MacArthur's Board since January 2010 and will begin his new role effective January 1, 2018.
Huttenlocher helped found Cornell Tech, the technology graduate school created by Cornell University in New York City. He has a mix of academic and industry background, having worked at the Xerox Palo Alto Research Center (PARC) and served as chief technology officer of Intelligent Markets. He is currently on the board of Amazon Incorporated and Corning Incorporated. He has been a faculty member at Cornell for more than two decades and has received a number of awards for his research and teaching. Huttenlocher is currently chair of the Investment Committee of the Foundation and a member of the Budget and Compensation Committee and the Nominating Committee. He grew up in Chicago, where the Foundation is headquartered.
"MacArthur's Board and staff are thrilled that Dan will be our new Chairman," said MacArthur President Julia Stasch. "His expertise in technology, deep understanding of the Foundation's grantmaking programs, strategic approach to governance issues, and sound judgment are needed during this critical time for global philanthropy. He will help keep us focused on ensuring MacArthur's resources and expertise are deployed for maximum impact."
Huttenlocher replaces Marjorie Scardino, who joined MacArthur's Board in 2005 and became chair in 2012. Previous Chairs of the MacArthur Board include Robert Denham (2007-2012), Sara Lawrence Lightfoot (2002-2007), John E. Corbally (1995-2002), Elizabeth J. McCormack (1990-1995), William T. Kirby (1989), Thornton F. Bradshaw (1986-1988), and Paul D. Doolen (1979-1984).
MacArthur's Board sets policies and strategic direction for the Foundation; approves grantmaking areas, initiatives and grants; and oversees investments and the audit process through the work of its committees.