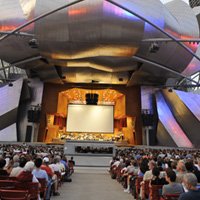 MacArthur awarded new grants to 13 Chicago arts and culture nonprofits to conduct collaborations with arts organizations in 12 countries. The grants are provided through MacArthur's International Connections Fund, which aims to help Chicago nonprofit arts and culture organizations advance their work by collaborating with peer organizations abroad.
"Sharing artistic experiences and promoting cross-cultural learning can help inform, engage, and entertain audiences and bring fresh perspectives to the creative organizations involved," said MacArthur President Robert Gallucci.
The following organizations will receive International Connections Fund grants:
International Connections Fund grants are limited to Chicago area nonprofit arts and culture organizations and other nonprofits with well-established arts programs that received a grant within the last three years from MacArthur or though the MacArthur Funds established at the Driehaus and Prince Foundations or through the New Communities Program directed by LISC/Chicago. Learn more about MacArthur's
International Connections Fund
.
MacArthur awards more than $8 million annually to more than 200 arts and culture groups in Chicago and the region as an expression of its civic commitment to the place where the Foundation has its headquarters and where John D. and Catherine T. MacArthur made their home. Grants are designed to help sustain the cultural life of the city and region.