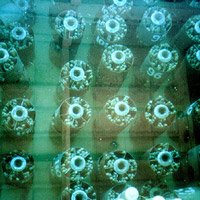 MacArthur's grantmaking in the area of nuclear security seeks to prevent nuclear terrorism, promote stabilizing nuclear weapons reductions and address the security challenges posed by Iranian and North Korean nuclear aspirations.
Why Nuclear Security Matters
Terrorist organizations such as al-Qaeda are clearly interested in acquiring and using nuclear weapons.
The essential component of a nuclear weapon is fissile material—highly enriched uranium and separated plutonium.
Enough fissile material is currently stockpiled around the world to produce in excess of 100,000 nuclear weapons. Much of this material is inadequately secured.
Just a soccer ball-sized piece of highly enriched uranium would be enough for a terrorist to make a simple nuclear device.
As nuclear power becomes an important means of diversifying energy portfolios and reducing carbon emissions, fissile material stockpiles are set to grow, raising the risk of theft or diversion.
MacArthur's grantmaking to prevent nuclear terrorism focuses on denying terrorists access to fissile materials.
Updated March 2014