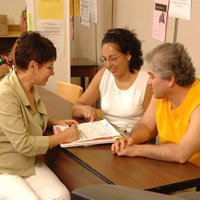 At a Glance
MacArthur's community and economic development grantmaking is grounded in a comprehensive community revitalization effort in 16 Chicago neighborhoods called the New Communities Program. Managed by the Chicago office of the Local Initiatives Support Corporation (LISC), the program is the largest comprehensive community development effort in the country.
Through the New Communities Program, MacArthur funds residents of local neighborhoods to plan and bring about positive change in their communities.
Additional initiatives, also focused on the 16 neighborhoods, include efforts to improve community safety, increase economic security, and stimulate economic development.
Between 2002 and 2012, MacArthur will invest $150 million in 16 Chicago neighborhoods — about half of the city's low- and moderate-income neighborhoods. MacArthur's recent $26 million grant to LISC for the New Communities Program is the largest single grant awarded by MacArthur in Chicago and brings the Foundation's support of NCP to $47 million.
The Foundation's funds leverage other loans and grants, including substantial public funding and private investment.
NCP is being studied around the world and replicated in 10 locations across the country: Detroit, Duluth, Indianapolis, Kansas City, Milwaukee, Minneapolis-St. Paul, Washington (DC), the Bay Area, rural Pennsylvania, and Rhode Island.
Get the complete grantmaking details by downloading the information sheet below.