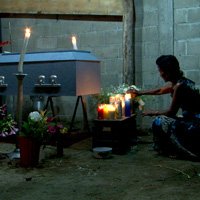 The Undocumented
In production
Directed by Marco Williams
Hiptruth Productions
New York, NY
The Undocumented is a ninety-minute cinema verité documentary that exposes a little known consequence of current United States immigration policy. Since 1998 more than 2,000 dead bodies and skeletal remains of unauthorized border crossers have been found in the desert in southern Arizona. The film chronicles Arizona's deadly summer months, following humanitarians and Border Patrol agents who fight to prevent migrant deaths, medical investigators and the Mexican Consulate who work to identify dead border crossers, and Mexican families who struggle to accept the loss of their loved ones.
The Undocumented will premiere on April 29, 2013 on PBS' Independent Lens. Learn more about the film and upcoming broadcast at Independent Lens website.