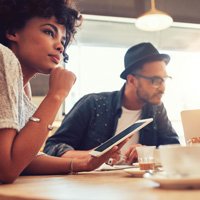 GenForward is a series of monthly surveys intended to address the absence of young black and Latino voices in the political process. The nationally representative survey of more than 1,750 young adults ages 18-30 is conducted monthly and pays special attention to how race and ethnicity shape how respondents experience and think about the world. The surveys are produced by the MacArthur-supported Black Youth Project at the University of Chicago, in collaboration with the AP-NORC Center for Public Affairs Research
It has so far documented opinions on:
Race and criminal justice - July, 2016: Majorities of young people of all races and ethnicities believe violence against police is an extremely or very serious problem in the United States.
LGBT policies - July, 2016: Most young people, across all races and ethnicities, favor rights and protections for LGBT people.
Guns and terrorism - July, 2016: African Americans and Latinos are more likely than whites or Asian Americans to have had experience with gun violence in the last year.
The 2016 presidential election - August, 2016: African Americans, Asian Americans, and Latinos are more likely to vote for Hillary Clinton.
Immigration policy - August, 2016: Most young people, across all races and ethnicities, favor policies that provide opportunities for immigrants to become citizens or receive work visas.
Race and police relations - August, 2016: Although whites and African Americans report being stopped by the police at similar rates, African Americans are more likely to report being arrested or harassed.
Economic vulnerabilities - September, 2016: Many young people do not have a positive view of their household's financial situation, especially young African Americans and Latinos.
Economic outlook - September, 2016: Few young people of any race or ethnicity have a positive view of the national economy.
Discrimination - September, 2016: About half of young African Americans report being discriminated against on the job market or in the workplace.
Voter Choice - October, 2016: Support for Hillary Clinton among young whites rises sharply over last month.
Understanding the Millennial Vote in 2016 - December, 2016: A summary of key findings from the first-of-its-kind monthly survey of racially and ethnically diverse young adults.
Obama's Legacy and Expectations for a Trump Presidency - January, 2017: A factsheet detailing how young adults view Obama's legacy and their concerns about Trump's committment to democratic principles.