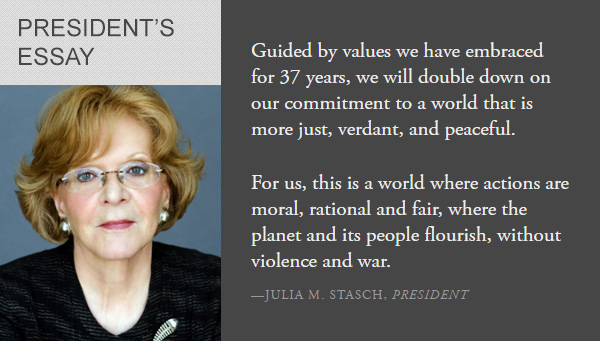 Today, people and places around the world, as well as the earth itself, face formidable, complex, and connected problems. At the same time, technological advances and increased connection hold unprecedented promise for the well-being of humanity and society, while creating new and vexing problems.
I am honored to lead the MacArthur Foundation at this moment in history. It is a privilege and a responsibility to steward the assets and legacy of this institution, and to help shape its future. With a deep respect for the organizations and individuals that do the actual hard work of making the world a better place, I commit to the urgency, rigor, and humility that this task requires.
Like others, I believe that the times demand that we question long-standing orthodoxies, established assumptions, comfortable practices, and even goals. This is as true for philanthropy as it is for governments, businesses, and other institutions.
As a private charitable foundation, MacArthur's paramount responsibility is to make the most effective use of our resources for the public good. That responsibility challenges us to periodically revisit our mission, to consider whether our areas of focus, our objectives, and our approaches are sufficiently bold, flexible, inventive, and effective, and to ensure that we are tackling some of the world's most profound issues as they rapidly evolve.
We are doing that now. Guided by long-held values, we will double down on our commitment to help build a world that is more just, verdant, and peaceful. For us, this is a world where actions are moral, rational, and fair; where the planet and its people flourish; without violence and war. These aspirations require ever more urgent and powerful action, with lasting impact on a major scale.
This means that we need to change. We must make hard choices about the ways we allocate our limited resources, how we use our time and talent, and the risk we are willing to take. Change is hard; failing to change is not an option.