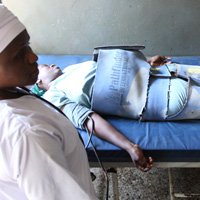 Assessment Overview
In 2011 and 2012, MacArthur 's Population and Reproductive Health program area commissioned several external reports as part of an exercise to evaluate the Foundation's contribution in the field and to inform the development of a new 10-year strategy. This assessment reviews the Foundation's grantmaking to reduce postpartum hemorrhage. Since 2003, MacArthur has invested more than $17 million in programs aimed at reducing postpartum hemorrhage in countries where maternal mortality is high. One high-profile initiative addressed the anti-shock garment, which is the primary focus of this report. An evaluation commissioned by MacArthur assesses the impact of one major initiative in the Foundation's efforts to reduce postpartum hemorrhage in countries where maternal mortality is high: the anti-shock garment, which can assist in the treatment of postpartum hemorrhage by stabilizing a severely bleeding woman.
Methods
The Foundation hired consultants Francine Coeytaux and Elisa Wells to conduct a review of this area of grantmaking. The evaluation included a desk review, site visits to India and Nigeria, and detailed interviews with grantees. The report reviews the impact of the anti-shock garment, its potential to reduce deaths from postpartum hemorrhage, and challenges for future deployment and scale-up.
Findings
The report indicates that the anti-shock garment is a life-saving device, but it fell short of expectations that it could have a high impact on mortality when used in isolation (i.e., without access to blood banks or surgeons). The garment did play a positive role in attracting attention to the "continuum of care" package of services that can contribute to the prevention of postpartum hemorrhage.
Next Steps
As new reports are completed, they will be shared with participants and posted on the MacArthur website. The Foundation welcomes thoughts and comments on these and other evaluations.