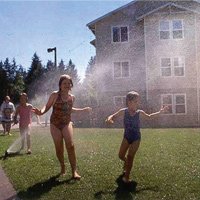 At a Glance
Decent, stable, and affordable housing is at the core of strong, vibrant families and communities. MacArthur's grantmaking is designed to support more balanced housing policies that acknowledge the importance of affordable rental housing and to help low- and moderate-income Americans improve their lives.
America's housing policies have placed a premium on homeowner­ship, but a healthy rental sector is vital for communities.
Almost one third of Americans rent—some 37 million households—and the number of renter house­ holds has increased by 4 million since 2008.
Between 1999 and 2009, 2.4 million rental units were lost (6.3 percent of total), even as the need increased.
Early findings have shown that stable, quality housing improves school performance, diminishes health problems for children and parents, and lessens psycho­logical stress.
By 2012, MacArthur will have invested over $300 million in grants and below market loans to preserve and expand the stock of affordable rental housing.
Get the complete grantmaking details by downloading the information sheet below.